WFAS proposes to WHO to bring together global medical experts to conduct evidence-based research to combat the pandemic
On March 30, 14:00 Geneva time and 20:00 Beijing time, the World Federation of Acupuncture-Moxibustion Societies (WFAS) participated in an online conference organized by the World Health Organization (WHO) - Role of TCM to counter COVID-19.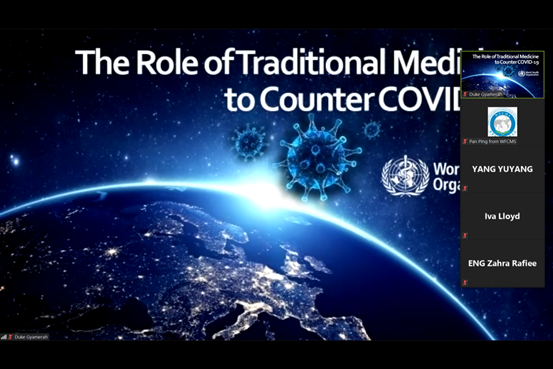 The conference received 39 representatives from 11 international organizations, academic institutions related to traditional, complementary and integrated medicine. WFAS President Liu Baoyan, and Director of the Respiratory Department of Guang'anmen Hospital of CACMS Li Guangxi, and others attended the meeting on behalf of WFAS. Dr. Zhang Qi, Coordinator of WHO Traditional, Complementary and Integrative Medicine Unit, attended the meeting as a representative of the organizer and delivered a welcome speech. He expressed gratitude to WFAS and WFTCM for requesting to organize this meeting. Everyone shares the knowledge and experience of traditional, complementary and integrated medicine. Whether it is first-line treatment experience or laboratory research data, WHO hopes to hear all kinds of voices.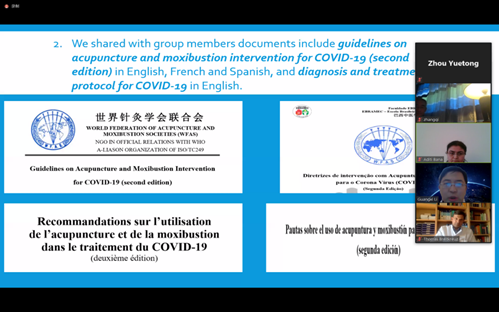 At the meeting, on behalf of WFAS, Dr. Li Guangxi briefed the work done since the coronavirus outbreak in January, including sharing documents such as multilingual diagnosis and treatment plans, news, acupuncture-related researches, donations, multi-national video conferences, and international lecture on COVID-19. Emphasized the key to the treatment period – reduce fever with traditional Chinese medicine. And explained the next direction of WFAS work.
Liu Baoyan, President of WFAS, called on WHO to pay attention to traditional medicine, share the experience of traditional medicine in the fight against epidemics, add traditional medicine experts to the WHO expert group, create conditions and opportunities for traditional medicine to participate in prevention and control, provide methodological support, use big data for analysis and share data and information.
Representatives introduced the understanding of COVID-19 and the measures taken to deal with it from the aspects of naturopathy, humanistic medicine, osteopathy, Persian medicine, Japanese Kanpo, Korean medicine, Thai traditional medicine, etc. Italian scholars also introduced the role of traditional Chinese medicine, by mentioning the English version of the " Guidelines on Acupuncture and Moxibustion Intervention for COVID-19 (second edition)" published by WFAS. During the post-meeting discussion, all agreed that more evidence-based research should be conducted and information on evidence-based research should be collected and disseminated, and hoped that cooperation would be strengthened.
The meeting ended with the words of French microbiologist and chemist Louis Pasteur: "Science knows no country, because knowledge belongs to humanity, and is the torch which illuminates the world.
Yang Yuyang, Executive Deputy Secretary-General of WFAS, and Zhou Yuetong of the Secretariat participated as observers.