WFCMS Suggests WHO Recommend TCM to Counter COVID-19 in the World
At 20:00 (Beijing) on March 30th, 2020, the World Health Organization Department of Traditional, Complementary and Integrative Medicine (WHO / TCI) held an international online seminar on the role of traditional, complementary and integrated medicine to counter COVID-19. WHO/CC and nearly 10 international organizations, academic institutions, health departments which related to traditional and complementary integrated medicine, more than 30 people came from China, United States, Italy, Germany, Switzerland, Iran, Thailand, Japan, South Korea and other countries and regions, attended the meeting reported and exchanged experience to counter COVID-19. On behalf of the World Federation of Chinese Medicine Societies (WFCMS), academician ZHANG Boli, Vice Chairman of WFCMS, attended the meeting and gave a wonderful report.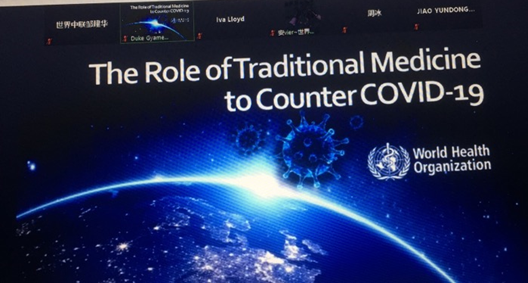 Academician ZHANG Boli introduced the major achievements of TCM in the fight against COVID-19 in China to the participants, and introduced the significant role of Chinese medicine in the fight against COVID-19 with detailed clinical data. He said that WHO should organize a dedicated team of experts to go to China to conduct field investigations and collate the results of Chinese medicine's experience and results into practical reports.
At the same time, Academician ZHANG, on behalf of WFCMS, suggested WHO that in this anti-epidemic work, TCM has been clinically verified by more than 70,000 confirmed cases, which can effectively relieve symptoms and reduce the development of light and common types to heavy types. Increasing the cure rate and reducing the mortality rate can promote the recovery of the body during the rehabilitation, and the total effective rate was more than 90%. The combined use of TCM and modern medicine has played an active role. It can quickly help mild patients to improve clinical symptoms and help to shorten the length of hospitalization in the prevention and treatment of COVID-19. It is a practical and effective medical method. Academician ZHANG said that in this global epidemic-resistant environment, all effective measures to prevent and control the COVID-19 should be widely used, and suggested that WHO could recommend the application of Chinese medicine to countries around the world to curb the development of the epidemic and maintain human health. He also suggested strengthening cooperation among organizations on the development of standards for TCM and evidence-based medicine research, promoting the deeper participation of TCM in global health governance, and making TCM better serve human health.
Participants at the meeting separately reported on the role and experience of traditional, complementary and integrated medicine like TCM, Japanese medicine, Korean medicine, Persian medicine, Thai medicine, human intelligence medicine, and natural remedies in the work to counter COVID-19. In the discussion session after all the speeches, representatives from various countries had active exchanges and put forward many useful questions and effective suggestions around the global anti-COIVD-19 work.
Dr. ZHANG Qi, Director of WHO / TCI, pointed out in his summary that WHO thanked TCM for its important role in this outbreak of COVID-19. At the same time, he would like to thank Academician ZHANG Boli for his outstanding contributions in the field of fighting against COVID-19.
Dr. ZHANG Qi said that WHO / TCI will comprehensively organize and share the content of this meeting. It is suggested that countries learn from each other based on different policy environments and the participating organizations can also provide timelier, comprehensive and feasible consultation services to them. WHO looks forward to conducting practical and safety research on traditional medicine with all partners and to jointly promote the process of traditional medicine entering the medical and health systems in all countries.